Creating an eco-friendly bathroom may sound like a daunting task, but it truly isn't so. When you need to purchase items for your bathroom, simply consider a greener alternative. Little changes will add up to a big difference over time! We've thought of 30 ways that you can make a more eco-friendly bathroom. Are you ready to get started?
30 Ways to Make a More Eco-Friendly Bathroom
Several items not just in our bathroom come in plastic wrapping. Unfortunately this type of plastic is not biodegradable and can actually last for centuries in our landfills. Due to their light weight, plastic bags also often end up in oceans and water systems where they are toxic to our sea life. The plastic that your toilet paper comes in, for example, can be recycled in the same manner as plastic grocery bags. If you don't absolutely need that plastic bag to transport your belongings, decline it at the point of purchase. And if your items come packaged in a plastic wrapping, put it in one of those recycle bings the next time you are at the supermarket.
Recycling all of our your shampoo bottles and other plastic bottles and containers. For every ton of plastic bottles recycled, we could save the equivalent energy usage of a two-person household for an entire year. 
Don't forget the glass bottles in your bathroom too, particularly those used for cosmetics. More than 28 billion glass bottles and jars end up in landfills every year, but recycling just one glass jar saves enough electricity to light a 100-watt light bulb for four hours, power a computer for 30 minutes, or keep a television on for 20 minutes.
According to EcoLife.com, "Disposal of consumer products, including things like medicines, personal care products, and makeup, is now the primary cause for contamination of fresh and ocean waters in industrialized nations, especially since water treatment plants are unable to break down the majority of the toxins that we put into them." Look here for information on how to safely dispose of your medicines.
From packaging of products like soap to the cardboard rolls inside the toilet paper, there is plenty of paper in the bathroom that can be recycled. Making new paper from recycled paper reduces the related contribution to air pollution by 95%.
Several cosmetics companies have recycling programs, where you can turn in your used bottles and containers to the company. Look here for a list of brands that participate.
Want to get better about recycling items in the bathroom? Put a small waste basket in your bathroom(s) (like this one from SimpleHuman, for example) just for recyclables!
Did you know that your lightbulbs (even LED bulbs) can be recycled? Per square foot, bathrooms typically use a lot of lightbulbs. When they burn out, you can drop them off at a local recycling center.
If you haven't made the switch to LED bulbs yet, there's another great way to make your bathroom more eco-friendly. If everyone in America switched to nothing but LEDs today, the nation's electric bill would go down by more than $10 billion annually.
Does your house get a lot of light during the daytime? If so, then there's no need to turn on the lights each time you go into the bathroom. Most of us just do it out of habit, when it really isn't necessary at all.
When you towels and washcloths have outlasted their life cycle, reuse them by cutting them into rags or donate them to nearby buildings to use as rags.
When you need to purchase new towels, consider ones that are made from bamboo, or organic cotton. Turkish Luxury Hotel & Spa has a great set of eco-friendly towels.
Turn off the water when you are brushing your teeth. If you aren't using it, there's no need to run it!
Set a timer for your kids when they shower or bathe. Kids are often the culprits of wasted water, especially since they don't pay the water bills!
Install a low-flow shower head. There are many of them on the market, but if you are looking for a reputable brand, consider one from Niagara.
You can also save a ton of water (perhaps literally) by not washing your hair every day. Consider using a dry shampoo like Aveda Dry Remedy Collection a few days a week instead.
Get yourself a PVC-free shower curtain liner. The plastic in PVC liners contains phthalates and other toxic chemicals that evaporate into the air. Phthalates are also hormone disruptors that can do harm to your body.
Need a new bath mat? Then consider one made of teak. Teak can be used on the bathroom floor to eliminate wet bath mats, or in the shower as teak is ideal in the wet. Or you may prefer this one made from bamboo, which is biodegradable.
If your bathroom gets damp, you may want to consider using an air purifier a couple of times per week. It does use electricity, so put it on a timer. Oransi makes high quality, but also affordable air purifiers such as these Air Purifiers For Mold. You definitely want to avoid mold at all costs.
Utilize eco-friendly cleaning products in your bathroom. You can get them at many local supermarkets and on Amazon, though

LuckyVitamin.com

also sells a huge selection of eco-friendly cleaning products. Brand such as Mrs. Meyers Clean Day, which are all made with natural essential oils, are biodegradable and phosphate-free, and never tested on animals.
Use eco-friendly personal care products too. 

LuckyVitamin.com

 also carries everything that you would need to fill your cabinets, from after shave to facial masks to hair coloring products to makeup. There are tons of eco-friendly brands to choose from, and not only will they be better for the environment, they will be better for YOU too.
The Food and Drug Administration allows companies to use chemicals known to be extremely harmful in the products we put on our bodies and on our kids and in our landfills every day. Instead, consider purchase your skincare from brands that are environmentally friendly. ZENMED carries 100% doctor-formulated, naturally-based skincare. They also use only 100% recyclable packaging and no wasteful cosmetic boxes. products we put on our bodies and on our kids and in our landfills every day.
Ditch the candles. If you want to enhance your spa experience, use essential oils instead. You can create the scent of your choosing with aromatherapy benefits too by diffusing the oils or by adding a few drops to your bath!
Purchase reusable makeup remover wipes instead of the inefficient disposable kind. These wipes from Lamazuna Lingettes are organic, machine washable, and can be used up to 300 times.
Use organic cotton balls and swabs. Maxim Hygiene makes excellent products that are free of chlorine.
Toothbrushes have to be replaced often throughout the year. If every member of the household switched to a bamboo toothbrush it would save a great deal of plastic! Bamboo is the worlds fastest naturally renewing resource which is also inherently anti-microbial, anti-fungal and anti-bacterial, which makes it perfect for bathroom use. These toothbrushes are also biodegradable, made with BPA-free bristles and come in packaging made from recycled paper.
Buy hairbrushes and makeup brushes, get ones that are made from wood, ceramic or bamboo rather than plastic, such as these brushes from Amazon. Olivia Garden makes several good options too.
Use an eco-friedly razor and razor blades. Preserve makes razors from100% recycled plastics. It is recyclable handle in communities with #5 plastics recycling or with Recycline's postage-paid mailer. It's packaging is made from renewable wood sources and is reusable as a travel case. Preserve also has a line of replacement triple blades that fit the Preserve razor, as well as the Personna Acti-Flexx and Gillette Sensor.
Like I said, little changes will add up to a big difference over time, so start where you can and go from there. Enjoy your eco-friendly bathroom!
Disclosure: I am a proud ambassador for LuckyVitamin.com. There are affiliate links in this post. Please click here for more information regarding our affiliate policy.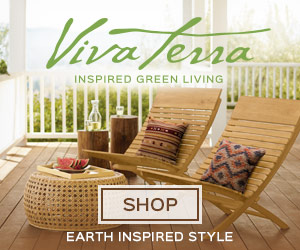 Related Posts:
10 Ways Healthy People Begin Their Day
How to Eliminate Toxins & Why You Should

7 Easy Ways to Help Your Family Stay Healthy Naturally
The Best Essential Oils for Meditation and Yoga
9 Natural Ways to Prevent or Get Rid of Sore Muscles
Chemical vs. Natural Sunscreen: What You Need to Know
A Day in the Life of an Essential Oil User
Toxin Free Makeup and Beauty Products
Got 15 Minutes? Then Try the Metabolic Aftershock Workout
What Happens When Teen Girls Stop Using Conventional Personal Care Products
My Favorite Healthy (& Green) Subscription Boxes