As Mother's Day approaches, I asked a few of my friends to share a recipe that they are sharing with their children or one that brings back memories of cooking with their mother. Today, Sharon Rowley of Momof6.com is sharing her mom's Beef, Tomato and Cornbread Bake with us and boy does it sound delicious:
When I was a little girl my mom used to prepare this delicious casserole-style dish for our family all of the time, and it was one of my very favorite meals. And when I became a teenager and started to take over some of the cooking responsibilities in our kitchen (because my mom had taken a job to start saving money for our college education), this is one of the first dishes that I learned to master. It is really pretty simple and it's what I consider to be a "midwestern family staple" because it includes canned Campbell's Soup, ground beef and a few other simple ingredients. So here is my Mom's Beef, Tomato and Cornbread Bake.
3 pounds of ground beef, browned and drained 2 cans of Campbell's Tomato Soup A generous amount of Worcestershire sauce (3-4 tablespoons) 1 box of Jiffy cornbread mix, prepared according to package directions, with 1 egg and 1/3 cup of milk
In a large rimmed oven-safe skillet, brown your ground beef, and then drain the grease before returning the beef to the skillet. Stir in the 2 cans of Campbell's Condensed Tomato Soup, but do not add water to the soup. Add in a generous amount of Worcestershire sauce, and if your kids enjoy spicy foods- feel free to add in some seasonings such as chili powder, paprika, and even a little bit of cumin.
Next prepare the Jiffy cornbread mix according to the package directions and stir until well mixed. Carefully spoon the cornbread mixture on top of your ground beef. I do this with a spoon- trying to make a long ribbons with the batter. Continue until you covered the top of the ground beef with a thin layer of the cornbread muffin mixture.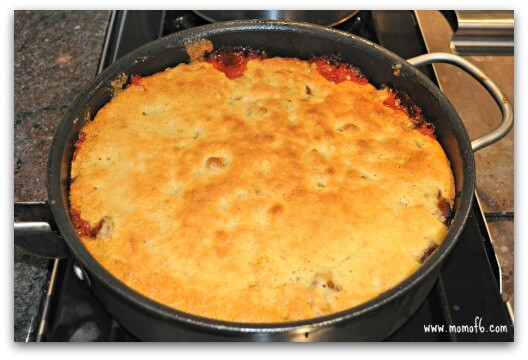 Bake at 400° for 15 to 20 minutes until the top is nice and brown. Be careful to allow the dish to cool a bit before serving to kids- the baked cornbread on top definitely keeps the beef underneath at a very hot temperature! (Sometimes I even flip the slice upside down to allow the meat to cool before serving it the the kids. It's not as pretty- but no one gets burned!)
Now if this was truly a special evening in our household when I was growing up, my Mom might have served dinner followed by our favorite family dessert-Texas Sheetcake!
I would like to wish my Mom and all of the other Moms reading this today, a very Happy Mother's Day. Thanks for everything that you do for your families!
Sharon Rowley is the busy Mom of 6 kids ages 7-12 and managing this large family calls upon all of the super-organizational skills she can muster! Sharon shares her ideas for Moms every day on Momof6, and you can also find her on Pinterest (sharonmomof6) and on Twitter @sharonmomof6.